For many women, a real female orgasm is a challenge to achieve depending on their partners likes and dislikes.
Some who experience a real female orgasm can only achieve it once, and then they think there is no possible way to have multiple orgasms.
Over-sensitivity is the main reason women feel they cannot orgasm again because what felt good before starts to not feel the same after.
We have found these techniques help during the recovery period to achieve multiple real female orgasms:
Doing a REWIND!

we find when you go back to the initial touch during the warm up stage usually away from the clit.
Rubbing between the lips, bringing wetness up and around the external clitorical glands helps.

Focus away from the external clit when there is too much stimulation.
The Palm Hug or Cup – many women prefer the pressure on the whole mons pubis area after orgasm.
Partnered Female Orgasm
Most women have admitted they just cannot reach multiple orgasms, and while their partners might pressure them into trying it might lead to more disappointment and hurt feelings.
We have found by keeping an open form of communication with your partner and sharing your discoveries can help in the bedroom. Having fun conversations with your friends about what positions or new discoveries is a great way to expand your horizon. Although it might work for your best friend, it might not be what makes you tick. There will be techniques and combinations that wont work but by having lots of patience and enjoy the discovery period with your partner.
Edging is another great way to increase the real female orgasm!
Here are a couple variations of edging to try out for those who are curious:
Pausing, going to zero, and rebuilding. With the pause method, you stop all touch before the orgasm, and when the impending orgasm is completely gone, start over from the beginning.
Distracting the Orgasm – sudden or intense sensations away from the clit before climax. By shifting your focus away from the clit, it prevents the orgasm from happening. Yet you get to rebuild again and come back to it.
Continuous pleasure – with continuous pleasure edging, you get as close to the orgasm as you can before you shift away from the clit.
Bringing it to the bedroom:
If you come easily/quickly the pausing or distraction would be best for you to try.
If you tend to lose orgasms completely, give continuous edging variation a try.
Edging can be difficult because it is so tempting to give in and let the orgasm come crashing over you. Patience is not easy, and just know you are not alone.
The point of no return – if you get too close, there is no stopping.
Try edging as soon as you get to the climaxing point and notice what happens in your body before the genitals follow, passing the point of no return.
We have also discovered clitoral stimulation or arousal is different from person to person, and even one week to another.
When talking about pleasure, intensity is a word that is definitely correlated with the clitoris.
One woman might compare the intense pressure to jamming something into your body, whereas the next woman compares that same sensation to being tickled.
Building Up Female Orgasm
Layering is a technique which lessens the intensity of connection between partners, yet helps grow multiple real female orgasms slowly.
If you are patient, this technique is for you.
Some techniques of layer are:
Wearing layers

Leggings over panties
Underwear from cotton to silk
Being under a sheet

Vulva Layers

Focusing on the clitoral hood or lips to delay gratification..
Stroke around and then, about every third or fourth time, switch from the hood and swipe a lubed finger over the clitoral glans.
Layering is preferred by many as it gets them a build up to help achieve multiple orgasms.
Some women have felt challenged when it comes to layering, so keep in mind the following tips:
Don't get discouraged. Sometimes the mind gets in the way.
Pain – a slight shift in one direction could change the sensation from "AMAZING" to "OUCH!" In this case, add more lubricant, check in quickly, and try again.
Experts
Accenting or targeting is another approach to achieve a better orgasm. It's like a torturous massage, especially if you have a kinky fantasy directed at a certain spot on your body.
Accenting is best after the warmed up stage, when your body is already in a state of arousal or release.
Here are some tip we have found helpful when targeting:
It hurts many women after a certain amount of time. Especially if it's an upward movement on the clit, where there is no hood to protect from below, alter for gentle strokes and minimal pressure.
Don't get frustrated if it feels great one time and does not the next. Think of the spot like a magician, it can appear and disappear or even move around depending on what is happening inside the receiver's body.
The clit is full of nerves that spread far out under the skin. Feel free to treat it like a scavenger hunt and explore what areas feel the best and worst for you or your partner.
If you need specific techniques for you and your partner(s), we are here to help via text therapy sessions. Discreet and personalized for your needs to achieve pleasure.
If you have any questions, or for clients hoping to take their intimate lives to the next level through personalized sessions on YOUR terms, learn more about our Text Therapy Program.
Life Coaching and Therapy (LCAT) is a relationship coaching and sex therapy practice that transforms our clients lives through our flexible, multi-technique approach and pleasure-skills training provided by systemically-trained and licensed therapists!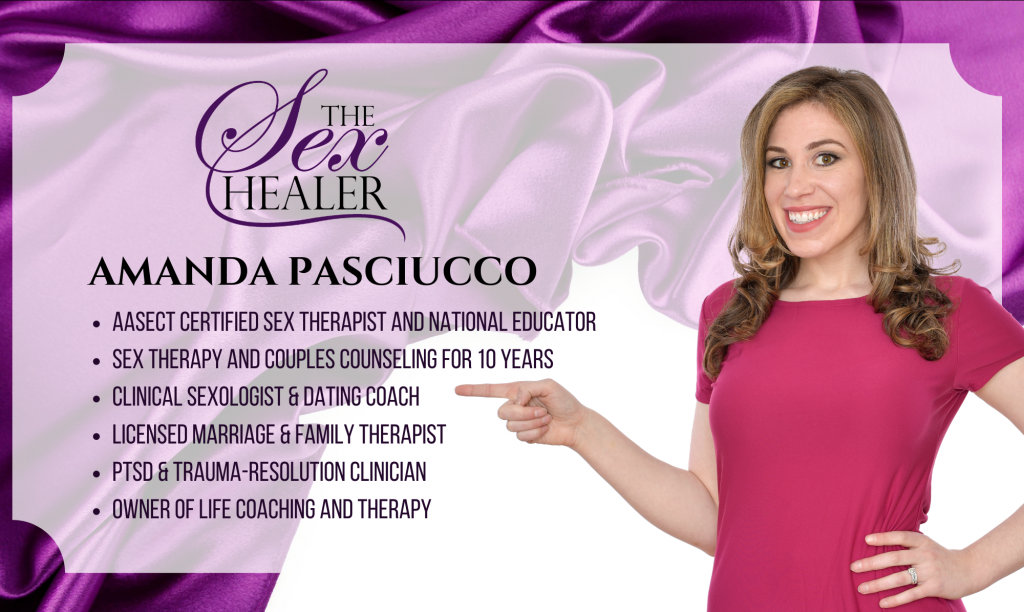 Our team of compassionate, licensed therapists and certified sex therapists help Millennials and Baby Boomers alike who visit us for a variety of relationship, intimacy and sex problems.
LCAT provides on-site appointments, as well as video chat and text therapy programs.
Learn more about how LCAT can help improve your life at What We Do.
https://lifecoachingandtherapy.com/wp-content/uploads/2020/12/logo-purple-horizontal.gif
0
0
Amanda Pasciucco
https://lifecoachingandtherapy.com/wp-content/uploads/2020/12/logo-purple-horizontal.gif
Amanda Pasciucco
2020-12-18 17:03:19
2021-02-18 17:07:07
Real Female Orgasm