Description
Are You Looking for a Unique Couples Night Out Experience?
Have You Lost the Spark in Your Relationship?
Do You Want to Give a Meaningful Gift to Your Spouse/Partner?
Whether it's a unique couples night out or gift idea for your spouse, these are all great reasons to spend a Friday evening together on igniting the intimacy in your relationship. Most of us need more pleasure in our lives. Isn't it time you put your relationship first – before work, kids, and responsibilities? Give each other a gift that will keep on giving and helping you experience a more sexually satisfying relationship.
The workshop will combine instruction and hands-on couples' activities within a socially distant room setting. You will learn practical applications you can start as soon as you get home. 
Although there will be other couples in the workshop, you will only be with your partner. The workshop is designed to be interactive and you are encouraged to ask questions.
This Workshop is For You If:
You love your partner, but don't feel the spark anymore

Your relationship feels more like roommates than lovers

It's time to try something new and fun
Learning Objectives:
Learn to understand one another's pleasure.

Find new ways to connect as a couple.

Learn skills for integrating tantra into your partnership. 

Hands-on practices with your partner to improve intimacy.
Agenda
:
Grounding Meditation

Introduction

Reflective Listening Skills 

Eye Gazing Exercises

Breathing Practices

Tantra Practices for Improving Intimacy
Date:
Friday, December 3, 2021
Time:
6:30 – 10:00 PM EST (3.5 hours)

Doors open at 6:00 PM. Please arrive by 6:15 PM.
Location:
8 Lowell Road, West Hartford, CT, 3rd Floor (stair access only)
Free parking in the rear of the building.
Requirements:
Attendees must be at least 21 years old – bring ID.

Masks are required. See-through masks will be provided at the door or you can bring your own mask.

Please bring proof of vaccination and/or negative PCR test results within prior 48 hours.

No alcohol, drugs or guns are allowed on the property.
Suggestions:
Bring pen and paper to take notes. (We will provide a summary document, too.)
Bring props to create a comfy space, such as a pillow, comforter, thick yoga mat, etc.
Dress:
Dress comfortably and wear/bring socks.
Please don't wear jewelry, buttons, and/or zippers and buckles.
Wear clothes that are smooth and soft (to increase the sensation of touch).
Please come with a recently showered body with unscented deodorant, soap, and avoid perfume or cologne. Some people are sensitive to scents.
Covid Mitigation:
If needed due to an increase in Covid numbers, the workshop will take place on Zoom.

We reserve the right to make this decision up to 24 hours before the workshop begins. 

If we have a Zoom event, you agree that you will not record the event in any way to keep confidentiality of those involved.

You also agree to participate from a private space of your own. 
Fee:
$500 per couple (select 1 in your cart for a couple)
Save 15% for the Holidays – Give the Gift of Love!
Use promo code: couples15
Attendee Limit:
10 couples maximum
---
About Your Counselors:
This unique couples workshop is brought to you by two experts in sexology and transforming intimate relationships.

Francesca Gentillé
Francesca is a clinical sexologist and has more than 20 years of experience as a relationship and sexuality guide and counselor.
She developed the Inner Aspects Method (IAM) to help hundreds of people improve communication and sexual satisfaction in their intimate relationships. She currently teaches a version of IAM at the International Institute of Clinical Sexology for a dissertation specialization.
Francesca has expertise in health education, cross cultural spirituality and non-violent communication techniques. She helps with presenting problems that include pre-orgasmic conditions, erectile difficulties, painful intercourse, orgasm dysfunction, sexual desire discrepancy in couples, emotional disconnects, communication challenges, childhood sexual abuse and adult sexual trauma.
Amanda Pasciucco
Life Coaching and Therapy (LCAT) founder, Amanda Pasciucco, is a Licensed Marriage and Family Therapist (LMFT) and an American Association of Sexuality Educators, Counselors and Therapists (AASECT) Certified Sex Therapist (CST) and Continuing Education Provider.
Known as "The Sex Healer" by her clients and colleagues, Amanda has helped transform the intimate lives of those struggling with infertility, sexless relationships, low-desire, arousal, orgasm, and penetration problems.
Through her flexible, multi-technique, sex-positive approaches, clients improve their sexual lives, and this often carries into a whole life transformation.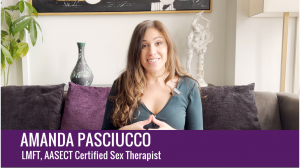 Watch Our Video to Learn More About Couples Night Out at Life Coaching and Therapy