CE for Therapists – Online Training Sign Up
---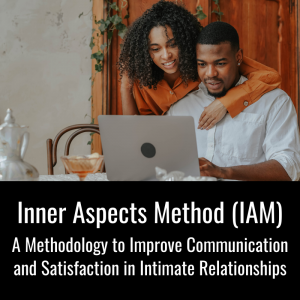 CE for Therapists, Counselors, Life Coaches, and Healers – The Inner Aspects Method
Are you looking for a deeper and more intimate connection with yourself and those you care about?
Life Coaching and Therapy (LCAT) offers a CE training on the Inner Aspect (IAM) Method. This is a 12 month, live, online training series for continuing education CE for therapists and counselors.
Learn to bring your clients less trauma symptoms, more peace, a better understanding of asking for what they want, and then having those around them feel more connected! This program is trauma-informed, client-empowered, and intimacy deepening. This is an expert clinical training for therapists, counselors, life coaches, and healers.
Participants will learn to provide client-empowered individual therapy, couples counseling skills, and trauma-informed methodologies to help their clients improve communication and satisfaction in intimate relationships.
What is the Inner Aspects Method?
The Inner Aspects Method (IAM) pronounced "I am" is a sex-positive, trauma-informed framework for therapists and counselors to utilize with individuals and couples seeking sexual satisfaction and improvement within their interpersonal communication.
Why Learn a New Method?
Trauma-informed
Client-empowered
Intimacy deepening counseling for your clients.
Enhance your own personal experiences.
Expand your therapy services.
Gain new private pay clients and increase revenue.
What Will You Learn?
The course will deepen your understanding of the intersectionality between the body, mind, emotions, culture and identity.
You will learn how to counsel clients who are concerned about their sexuality or sexual identity. You will be able to help clients reach their treatment goals and align with their core sense of values.
Similarly, you will be able to help couples get through the push and pull conflict cycle that often plays into working with more than one person at a time.
Spark Up Your Sessions!
We will also cover how Tantra, Psychology, Somatics, and Sexology can be combined with a knowledge of the Inner Aspects to:
Bridge desire sexual differences between a couple.
Enhance the intimate connection in sexuality.
Teach clients to be in tune with their emotions.
Help clients identify their ideal relationships.
Counsel with confidence and skills.
Find clients who are passionate about growth.
How Long is IAM?
One Sunday each month for 12 consecutive months starting in November 2022, you will invest two hours of your time learning about the Inner Aspects Method and how to apply this framework to help your clients and yourself.
How Many CE Credits Can You Earn?
You can earn 24 continuing education credits from AASECT, the American Association of Sexuality Educators, Counselors and Therapists.

Francesca Gentillé
Francesca is a clinical sexologist and has more than 20 years of experience as a relationship and sexuality guide and counselor.
The Inner Aspects Method (IAM) was developed by Francesca who has used it to help hundreds of people improve communication and sexual satisfaction in their intimate relationships.
She currently teaches a version of IAM at the International Institute of Clinical Sexology for a dissertation specialization.
Francesca has expertise in health education, cross cultural spirituality and non-violent communication techniques.
Francesca helps with presenting problems that include pre-orgasmic conditions, erectile difficulties, painful intercourse, orgasm dysfunction, sexual desire discrepancy in couples, emotional disconnects, communication challenges, childhood sexual abuse and adult sexual trauma.
Amanda Pasciucco
Life Coaching and Therapy (LCAT) founder, Amanda Pasciucco, is a Licensed Marriage and Family Therapist (LMFT) and an American Association of Sexuality Educators, Counselors and Therapists (AASECT) Certified Sex Therapist (CST) and Continuing Education Provider. Amanda is a clinical sexologist and a PhD Candidate.
Known as "The Sex Healer" by her clients and colleagues, Amanda has helped transform the intimate lives of those struggling with infertility, sexless relationships, low-desire, arousal, orgasm, and penetration problems. Through her flexible, multi-technique, sex-positive approaches, clients improve their sexual lives, and this often carries into a whole life transformation.
Amanda has been featured in CNN, Psychology Today, Men's Health, Women's Health, PsychCentral, Cosmopolitan, and more. Amanda has more than a decade of experience with 20,000 clinical hours.
IAM Webinar #1:
The Power of Intention and Key Archetypes
Sunday, November 20, 2022
10-12 PST/ 1-3 EST
Learning Objectives:
Identify areas of opportunity within your own professional and personal experiences to proactively reduce common barriers that individuals face when accessing mental health care.
Discuss challenges within the field for building a trauma-informed practice.
Learn to recognize the Inner Aspects Method as a framework to advocate against clinician bias and prejudice towards individuals and couples within the therapy room.
IAM Webinar #2:
Understanding the Polyvagal Nervous System and the 5 Stages of Trauma
Sunday, December 18th, 2022
10-12 PST/ 1-3 EST
Learning Objectives:
The Polyvagal Nervous System – Distinguish between using empathy and problem solving when it comes to healing 

Discuss client escalation in session and the 5 Stages of Trauma – Victim, Survivor, Thriver, Server, Embodied Server
IAM Webinar #3:
Learning About the Wounds We Inherit in Culture
Sunday, January 22nd, 2023
10-12 PST/ 1-3 EST
Learning Objectives:
Identify how cultural and social influences determine and impact relationships and family structure.
Discuss presenting problems in relationships while masking socio-cultural issues.
Societal Trauma – The Wounds of Culture
IAM Webinar #4:
New Paradigm for Improved Clinical Outcomes
Sunday, February 26th, 2023
10-12 PST/ 1-3 EST
Learning Objectives:
Address some of the impact that cultural conditioning has had on your life and clients' lives.
Process way that familial factors affect relationships.
IAM Webinar #5:
Intake Session Concepts for Success – Part 1
Sunday, March 26th, 2023
10-12 PST/ 1-3 EST
Learning Objectives:
Learn strategies to strengthen your therapeutic alliance to unpack the intake assessment paperwork with clients.
Learn ways to encourage and explain the need for more time when a 1-hour session isn't enough.
IAM Webinar #6:
Completing the Intake Session and Successful Modeling for Clients – Part 2
Sunday, April 23rd, 2023
10-12 PST/ 1-3 EST
Learning Objectives:
Learn how to use the intake to unpack the scales of trauma and abuse.
Discuss your commitment to challenges, contexts and privileges.
IAM Webinar #7:
A New Therapeutic Approach to Treatment & Homework
Sunday, May 21st, 2023
10-12 PST/ 1-3 EST
Learning Objectives:
Participants will experience a process to understand their own inner aspects in order to develop integrity to use the method to gain insight into new ways to empower oneself.
Learn what to ask about clients' cultural context, age, religion, ethnicity, places lived, and family.
Enable clients to become aware of how their cultural context may affect their relatedness to their sex, body, intimacy, relationship design and self-esteem.
IAM Webinar #8:
Most Common Clinical Uses for Inner Aspects Method
Sunday, June 25th, 2023
10-12 PST/ 1-3 EST
Learning Objectives:
Learn to utilize IAM in a variety of ways for individuals.
Learn to utilize IAM in a variety of ways for couples.
Development Stages of the Inner Aspects
Essay about "Tooting Your Hor​n"​
The Wounded Child: The Inner Aspects that are holding on to these thoughts, feelings and behaviors
I'm not good enough or Low self-esteem
I don't belong
There's something wrong with me
I'm different
IAM Webinar #9:
Strategies for Using IAM in Client Sessions
Sunday, July 23rd, 2023
10-12 PST/ 1-3 EST
Learning Objectives:
Learn how to utilize IAM for the individual (can be applied for an individual while in couples or family therapy sessions).
The Functional Adult – Writing New Inner Aspect Programs (or recovering them, and practicing with them and new skill sets)
Intimate and collaborative
Compassionate and authentic
Able to postpone gratification
Curious about another's world view
Thoughtfully responsive vs reactive
IAM Webinar #10:
Understanding the Different Inner Aspects and Reflecting them to Clients
Sunday, August 20th, 2023
10-12 PST/ 1-3 EST
Learning Objectives:
Learn a practice that supports empathy and compassion for dyads.
Understand how to reflect different syntax, words, body postures, and tones to clients that are indicative of different parts of the client, to help the client feel seen, heard, and understood.
Clinicians embody the Inner Aspects within themselves.
Practice a calm and observational self with empathy.
Attune to clients and help them discover themselves.
IAM Webinar #11:
Neurobiology of Love and Lust
Sunday, September 24th, 2023
10-12 PST/ 1-3 EST
Learning Objectives:
Formulate emerging visions of relationships that weave together traditional and innovative practices.

Discuss the neurobiology of the lust and love systems in the brain and how this affects romantic relationships and sexual desire.
Our Thoughts and What We Dwell on Matters
PRUNING or DEVELOPING.
Nurture new relatedness to inner aspects
IAM Webinar #12:
Boundaries and Ending Treatment
Sunday, October 22nd, 2023
10-12 PST/ 1-3 EST
Learning Objectives:
Learn to examine your own sense of boundaries and empathy with clients around sexuality and eroticism.
Gain understanding of how to bring attunement to final therapy sessions and discuss rituals for completion.
The journey is ongoing – help clients understand their old, unconscious model and make conscious choices to heal past trauma and rewrite a new program.
The Inner Aspects training has been a game changer!
In participating in this training I was able to engage my clients in another level in our therapy sessions.
It's another tool for my tool box to challenge my own or clients inner narratives and being able to connect where these stories originated in order to be able to understand and bring consciousness.
Rather than focusing on changing ourselves, this is a model of teaching individuals and couples to hold compassion and accountability for themselves in order to foster healing.
IAM training enabled me to help clients find compassion and love for themselves while being accountable and bringing consciousness and insight into their patterns and complexities in order to make the changes they want.
This model has grown my clinical and staff supervisory abilities and has helped me grow as a person as well.
Nicole Scrivano
LMFT (She/Her/Hers), Director of Life Coaching and Therapy, LLC
After completing the year long inner aspects model training, I would say it's one of the best trainings I've ever attended, both with the format of spreading it out over a year, but also, more importantly, with the content and just the ease of application and the immediacy of benefit, both personally and professionally.
I'm classically trained in structural and Bowenian family therapy. Getting into the mind, different parts, kind of Jungian parts and stuff…that was not something that was taught in grad school.
What I found by going through the training is that it really helped break down and shift communication with couple and family sessions. Especially when we're dealing with family of origin issues, trauma, or other really big emotions and raw points. I really benefited from learning how to address those things with the inner aspects model.
I found getting the education on the neuroscience behind it, and being able to present that scientific information to my clients was helpful.
The clients I work with really appreciate learning, "Oh… this is how the mind works. This is how our thoughts and everything are tied up in our brain processes and neurobiology." It helps get their buy in when I start introducing the language of the model, which I think is where it gets a lot of its strength.
I help clients understand all the different parts that are showing up within themselves. Can we name them? Can we get to know them? Can we really see our parts for who they are and how they try to serve us, how they are helping us to survive and then meet them with compassion, meet them without shame, and shine some positive love and light on them.
I work with clients to invite in new parts of themselves, shift the conversation and direct how they would like to show up, how they did show up, and how they can grow from that experience and learn about themselves and continue to grow.
Also personally, with a lot of the training activities we did and content we went through, it's really hard to not have personal growth with the model.
The model is so intuitive and eye opening that once you learn it, it's hard to go back to the old way of doing things.
By incorporating IAM in my daily life, it has really helped me bring it into sessions, not just as a professional learning model where "I'm going to show this to you and work with you on this," but as a person who has been in a lot of the same situations as my clients, and being able to do "self therapy" work with the model to uncover my own blind spots and improve human connection. It brings out rapport, empathy, validation, unconditional regard knowing, "I've been there. Here's my struggle with my parts that came up. Is that true for you?"
I would strongly recommend IAM to anyone who is interested and learning more about themselves and also learning a really cool way of being able to work with clients.
There are some people who are gifted in the art of changing lives.
Francesca Gentille is one of them.
She delivers her messages, life lessons, and art, in terms both embracing and exhilarating.
I have been both student and teacher in a variety of spiritual disciplines and can honestly say that Francesca is up there with the handful of Master Teachers whom I respect for their discipline, their humanity, and their joyous delight in life.
Helen Noakes
Traditional Reiki Master, Usui Shiki Ryoho
Demo of Inner Aspects Model