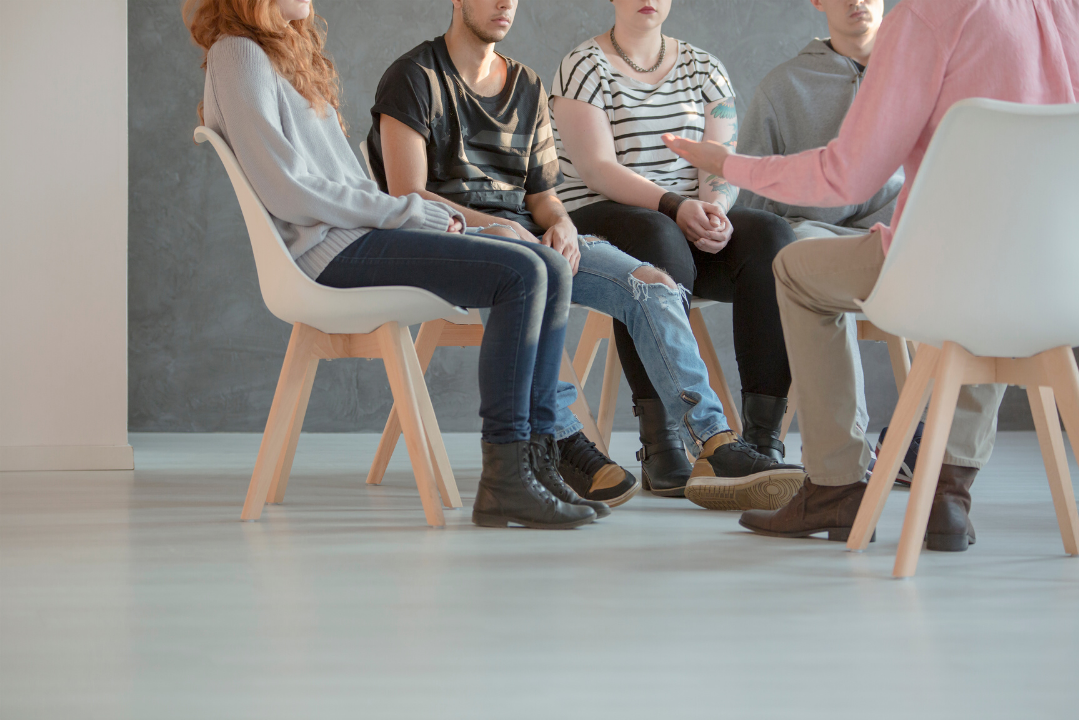 Trauma – Focused Cognitive Behavioral Therapy
Trauma – Focused Cognitive Behavioral Therapy
Trauma – Focused Cognitive Behavioral Therapy or TF CBT is an evidenced based model that uses CBT techniques to help aid in trauma treatment. This is done through the "PRACTICE" model.
Psychoeducation/Parenting Skills – focuses on learning about trauma and supporting caregivers and primary supports in supporting the trauma survivor
Relaxation – building relaxation skills to relax the body. The belief is that if you engage in focusing on the body that it helps support ability to manage trauma
Affect Modulation – learning about emotions to help connect your physiological reactions with your emotions
Cognitive Coping – recognizing thought patterns and different thoughts or beliefs the survivor has about themselves. Connecting these thoughts to the physiological and emotional responses 
Trauma Narrative -where the survivor writes or creates an account of their story with the therapist in session. 
In vivo gradual exposure – in each session the therapist works with the client and their supportive other in gradually bringing the trauma into the room from the beginning and reading the trauma narrative to the client and the supportive other separately to prepare for the client reading or sharing it in session. 
Conjoint Sessions with Client and Supportive others – Sessions can be individual for the client or the supportive other(s), and there are some sessions that are conjoint (relational). The most notable of these is where the client/survivor shares their trauma narrative with the caregiver/support
Enhancing Safety – this is not about victim blaming! This is about supporting people who have experienced trauma in learning what are healthy ways to set boundaries, recognize red flags, and work on self-advocacy.
This model was developed predominantly to work with children, but has been used with all age ranges. Although it is most effective with children.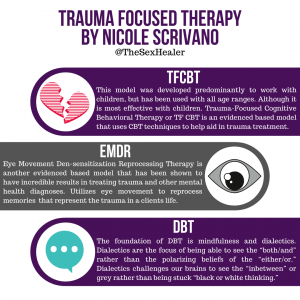 Eye Movement Desensitization Reprocessing Therapy
Eye Movement Den-sensitization Reprocessing Therapy or EMDR is another evidenced based model that has been shown to have incredible results in treating trauma and a variety of other mental health diagnoses.
EMDR utilizes eye movement or bilateral stimulation (BLS) to reprocess memories or images that represent the trauma or an event in a clients life. The BLS accesses neural pathways in the brain to help aid the client in reprocessing the memory and the negative belief that was created about themself in that event or memory. In using the BLS it allows the client to access multiple parts of their brain to reprocess the memory in a safe secure environment.
In the event of a trauma or difficult experience, the brain responds in crisis and is not usually able to access the part of the brain that allows for reason and understanding, the brain is most times responding out of fight, flight, freeze, or fawn. These are automatic responses that we have no control over. Our brain goes into autopilot. EMDR accesses these memories and allows for us to reprocess these memories while also engaging our frontal lobe creating a different experience and allowing new pathways to be created. For more information regarding EMDR read Getting Past Your Past by Francine Shapiro, PhD.
Inner Aspects
A sex-positive, trauma-informed care model that we use at Life Coaching and Therapy is called "The Inner Aspects" or the "Parts Theory" Model, informed by, and not limited to the following models:
Francesca Gentille's Inner Aspects Model, Rosenberg's Nonviolent Communication Theory, Maslow's Hierarchy of Needs, Bowbly's Attachment Theory, Tony Robbin's 6 Human Needs Theory, Hendrix's Imago Model, Jung's Archetypes, Schwartz's Inner Family Systems, and Shapiro's Eye Movement Desensitization and Reprocessing.
For short, The Inner Aspects or Parts Theory is a life hack to better communication in sex and intimate relationships.
The concept is that who we are internally is complex.
We may have only one body – AND we have multiple "identities" within us. Identifying our parts helps us slow ourselves and our thoughts down, to understand the types of strategies we have been using to end up with our current presenting problems. Emotions arise because our needs aren't being met. Arguments and conflict arise because humans argue over strategies on how to get their needs met. (Rosenberg's Nonviolent Communication).
We each have various parts of us that hold onto different stories and beliefs about life.
Qualities of Parts of Us:
Sweet and Innocent

Saboteur and toxic

Animalistic or barbaric

Sensual and sexual

Divine or inspired

Selfish, childish, rebellious, or manipulative

Competitive and athletic
The inner parts work that you are responsible for is to find an inner nurturer that represents your younger selves.
The external work is to find the parts of you that can be the most open to strategizing the best ways to meet both your needs and the needs of those individuals and communities that you state that you value. Through gaining this insight towards your inner aspects, you allow space for healing and growth.
Identifying and learning which parts of you have been impacted by trauma allows for you to reintegrate these parts of you fully and meet their needs to work towards healing these wounded parts. This integration allows you to reduce the experience of being "hijacked" by these parts (or losing control of your responses through being reactive). As Francesca Gentille would say you want "from reactivity to creativity" which is to say "responding" from a more centered integrated space.
Inner Aspects uses insight and empowerment to help individuals and relationships heal from the impact of trauma.

Dialectical Behavioral Therapy
Dialectical Behavioral Therapy (DBT) was created by Marsha Linehan initially to treat Borderline Personality Disorder. DBT became one of the most popular models in treating BPD and was evidenced based. Linehan utilized both "western" and "eastern" medical models to create DBT which differed from Cognitive Behavioral Therapy (CBT).
The foundation of DBT is mindfulness and dialectics. Dialectics are the focus of being able to see the "both/and" rather than the polarizing beliefs of the "either/or." Dialectics challenges our brains to see the "inbetween" or grey rather than being stuck "black or white thinking." Whereas mindfulness focuses on being fully present in the moment, being non-judgmental, and focusing on one thing at a time. The combination of these two foundational factors allowed for clinicians to utilize this effectively with clients with Borderline Personality Disorder, but quickly began to show efficacy in a range of other mental health disorders.
In addition to mindfulness and dialectics, there were other sections of DBT that clients use to learn how to lead a more balanced life. The sections of DBT are: Dialectics, Mindfulness, Distress Tolerance, Emotion Regulation, Interpersonal Effectiveness, and Cognitive Modification. Each of these sections build on dialectics and mindfulness to help clients deal with crisis, manage emotions, engage in healthy relationships (with themselves and others), and adjust thinking patterns. DBT uses acronyms to help remember various skills so skills can be applied and easily recalled.
From my education and experience as a therapist, I see a strong correlation between Borderline Personality Disorder and trauma. Given that Linehan and others have done ample research to support the use of DBT with BPD, I do not think it is a far assumption to see how DBT can also support people who have been traumatized.
Mindfulness and Distress tolerance focus on building self-awareness and grounding techniques which are vital to trauma treatment. Furthermore, emotion regulation and interpersonal effectiveness support people who have experienced trauma in managing their emotions, learning skills to recognize their emotional experiences, and learning how to engage in healthy relationships through boundaries, building self-esteem, and other social techniques.
A signature of trauma is the cognitions created, so the use of cognitive modification within DBT is very important in addressing challenging thought patterns. Challenging these thought patterns are healing for clients and allows for them to engage in life and relationships more fully and genuinely.
Review Therapists Website, Social Media posts, and ads to learn about their policies, beliefs. A therapist who is trauma informed will show that somewhere. And being able to see their social media pages, blog posts, etc. will show you what that therapist or practice values. If you see information regarding trauma, that is a good sign. However, just because they are posting does not mean that they are competent, that is why you have to see multiple points.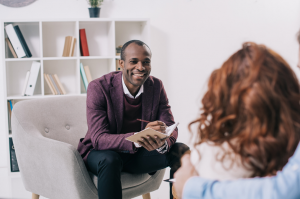 If you already have a therapist, you can still review what is stated above and also have conversations with the therapist about their experience with trauma work. Recognizing the red flags for you and what may be barriers or strengths in working with this particular therapist around trauma.
Trauma work requires a safe place for clients to disclose some very challenging experiences. I would recommend finding a trauma therapist who is able to provide that safe space, one that is non-judgmental, supportive, and can sit with you and attune while you are working through these tough experiences.
People who have experienced trauma, do not feel safe in many places so finding a therapist who is attuned to you and you feel that you are able to connect with is important. Safety is not an easy thing to come by if you have a trauma history, so connection, attunement, vibe, and trust are steps to getting towards safety. If you feel safe from the get, that is amazing! However, it is normal to feel levels of anxiety in beginning therapy.
Finding the right fit is tough, but hopefully some of these tips have helped you find some general things that can help you. Remember trauma is challenging and requires a space that is able to cultivate healing and growth, through safety and connection. Part of the therapist's role is to help you grow in feeling safe in the therapeutic relationship to heal the impact of trauma. A safe place that is empowering, engaging, challenging, connecting, supporting, and healing.
At LCAT we are happy to help and many of us specialize in working in trauma. If you have any questions please contact us!
If you know someone that would benefit from this information, feel free to share it.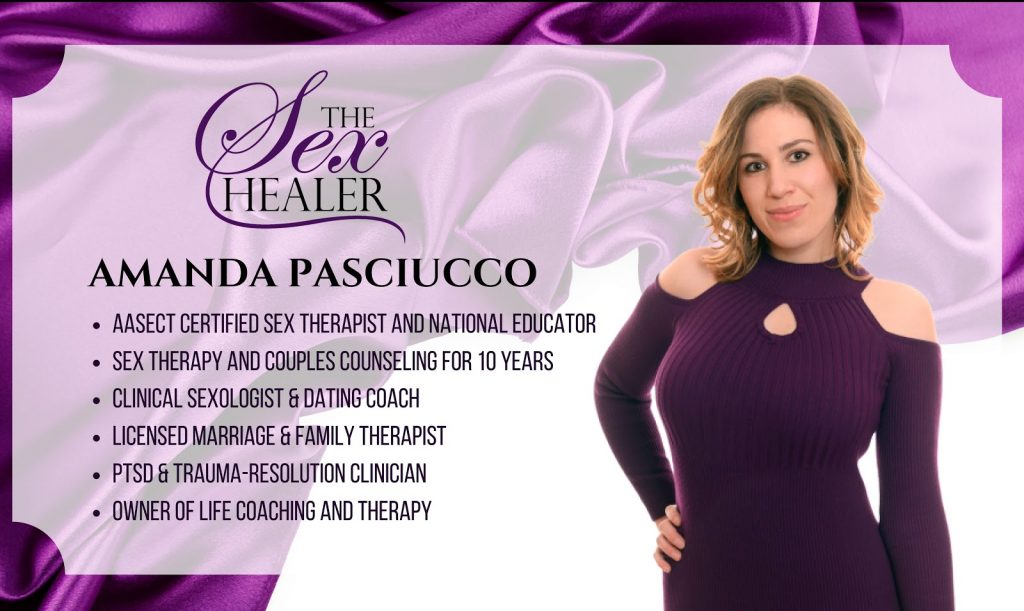 Life Coaching and Therapy (LCAT) is a relationship coaching and sex therapy practice that transforms our clients lives through our flexible, multi-technique approach and pleasure-skills training provided by systemically-trained and licensed therapists! 
Our team of compassionate, licensed therapists and certified sex therapists help Millennials and Baby Boomers alike who visit us for a variety of relationship, intimacy and sex problems. 
LCAT provides on-site appointments, as well as video chat and text therapy programs. For clients hoping to take their intimate lives to the next level through personalized coaching on YOUR terms, learn more about our Text Therapy Program.
Learn more about how LCAT can help improve your life at What We Do. 
Call or text us at 203-733-9600 or make an appointment.
https://lifecoachingandtherapy.com/wp-content/uploads/2020/04/Copy-of-Copy-of-Copy-of-Copy-of-Copy-of-How-To-Seduce-Your-Spouse-Even-If-You-Are-Busy-Or-Self-Conscious-_-Shy-1.png
720
1079
Nicole Scrivano
https://lifecoachingandtherapy.com/wp-content/uploads/2020/12/logo-purple-horizontal.gif
Nicole Scrivano
2020-04-01 09:12:12
2020-04-01 09:12:12
Trauma – Focused Cognitive Behavioral Therapy