"I Hate my Therapist"
It is startling how often we are told "I hate my therapist" and that is why clients are requesting services. 
Many clients show up to the first session, called an intake, and discuss how terrible their experiences have been in therapy thus far. 
Oftentimes, a session or two is spent talking about why they state "I hate my therapist." Working through how that impacted them is important so we can make this experience different. 
Horror Stories from Clients
If some of these stories are too familiar to you, you probably do not have the right therapist. The stories are heard included some of the following: 
Many people have had TERRIBLE experiences in therapy

They were shamed

Therapists fell asleep

Connection was not great

Were not challenged

Were not validated 

Did not feel seen

Experienced a therapist who was discriminated against them
Topics listed here are horror stories from clients that stated they hated their past therapist. 
Unfortunately, in our society, it is considered normal to stay with a provider regardless of how "helpful" we feel it is. A lot of my clients felt like they had to stay with therapists, doctors, and other providers because "they had to." 
Each of us have different needs in a therapist and that makes sense – we are all different! But having a therapist that works for you means YOU need to feel connected and comfortable with them. Therapy is vulnerable, emotional, and can be intense so it is important that you are getting your needs met. 
What Can I Do?
Here are some tips and tricks on some things to do to help you find the best fit for you.
Write a list of qualities you want your therapist to have

Figure out what you need to focus on, look up therapists who list that

Look up reviews on the therapist and the practice

Talk to people in your life about their experiences 
If you are in therapy already these questions might help.
Questions to Ask Yourself:
Do you feel connected to your therapist?

Do you feel heard by your clinician?

Are they collaborating with you?

Can you give them feedback or advocate for yourself?

Do they seem open and non-judgmental?

Are they clear? Are you able to clearly communicate with them?

Do they take accountability when they mess up or misunderstand?

Are they able to model appropriate behavior (boundaries, communication, etc)?

Do they care about your experience and your needs?

Do they notice your patterns?

Are they validating? Are they supportive?

Do they explore underlying issues?

Are they reliable? 

Do you feel like your goals are being met or addressed?

Are they responsive?

Are they on time? Do they end on time?

Do they ask your consent?
It's important that we value ourselves and our care. 
I hope that this post helps when you hate your therapist! Please find a way to work with providers who you want to keep working with, this will help you have a conversation to help you figure out if they are the right fit for you!
If you have any questions, or for clients hoping to take their intimate lives to the next level through personalized sessions on YOUR terms, learn more about our Text Therapy Program.
Life Coaching and Therapy (LCAT) is a relationship coaching and sex therapy practice that transforms our clients lives through our flexible, multi-technique approach and pleasure-skills training provided by systemically-trained and licensed therapists!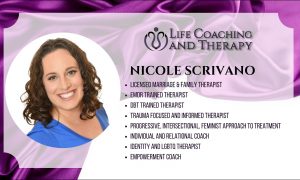 Our team of compassionate, licensed therapists and certified sex therapists help Millennials and Baby Boomers alike who visit us for a variety of relationship, intimacy and sex problems. 
LCAT provides on-site appointments, as well as video chat and text therapy programs.
Learn more about how LCAT can help improve your life at What We Do. 
https://lifecoachingandtherapy.com/wp-content/uploads/2021/05/pexels-cottonbro-4098366-1-scaled.jpg
1707
2560
Nicole Scrivano
https://lifecoachingandtherapy.com/wp-content/uploads/2020/12/logo-purple-horizontal.gif
Nicole Scrivano
2021-05-28 11:25:41
2021-05-28 11:25:41
"I Hate my Therapist"