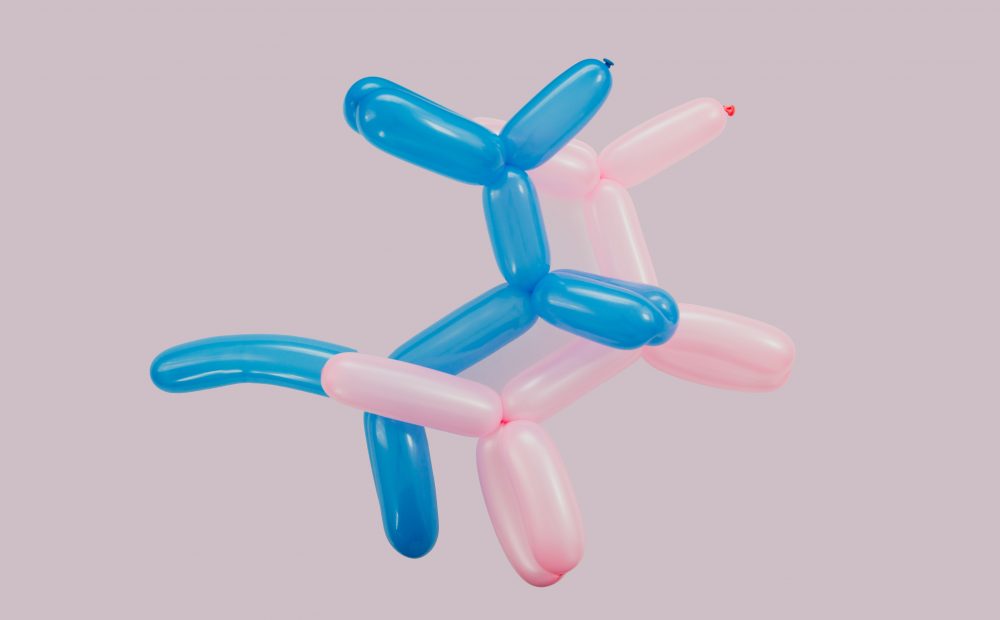 Behind the Scenes with Doggy Style Sex
Behind the Scenes with Doggy Style Sex
You've either seen it or done it, so you know why doggy style sex is such a popular position.
Doggy style sex has sat near or at the top of the sexual chart for years because it's a delicious play on dominance and submission.
The greater freedom of movement provides ample opportunity for a killer view from behind and access for the bottom to receive either clitoral stimulation or masturbation of the shaft from the front. 
It isn't just a "static" position either! There are a bunch of hot variations to play around with when you try this one. 
Doggy Style Sex is Versatile!
Basic Doggy style sex involves one partner on their hands and knees while the other partner enters from behind them. 
You can switch it up a bit by kneeling on the edge of the bed or a couch while your partner stands upright behind you or lay completely flat. 
You can angle your back and your butt up sharply, giving your partner different angles, or even control the rhythm yourself while they remain still.
Doggy style is also perfect for people who love anal sex or are just trying it for the first time. 
In doggy style, it's easier to focus on penetration solely, instead of having to worry about someone's body weight on top of you. 
Controlling your breathing and relaxing your muscles comes more naturally in the position.
Tips for the Bottoms in Doggy Style Sex
It's easy to think that all you have to do is hold tight and keep the position when you're having doggy style sex. That, however, is far from true! 
While, most of the work can come from the on-top partner, there is still a bunch you can do to make the sex incredible.
Here are some great ways to make doggy more fun for you and a blast for your partner:
Self-Stimulation
Doggy is great for clitoral stimulation or for jerking off the penis because you can access one of your hands for pleasure. 
Since nobody is squashed on top of you, your hands have free access to your genitals! While your partner is having a blast behind you, you can have some fun as you self-pleasure.
Change It Up
The way you angle your back and hips is going to completely alter the angle of penetration.
That will bring with it a bunch of different sensations that are hard to get in other positions. Trust us, your partner will love it too.
Submission as Empowered
Yes, some people like doggy style sex MORE because they enjoy feeling submissive during sex at times. 
However, for many, doggy style sex is a playful way to mix up the routine. Whether you want to lift yourself up by holding on to a bed frame or want your partner to stay still while you control how fast penetration goes in and out, there's plenty for you to do.
Let Your Partner Know
There's a lot you can do communication-wise during doggy style sex. You can turn your head to catch your partner's eye or verbalize what you'd like them to do behind you. 
Let them know how your self-pleasure feels, and sometimes you can ask for a playful spank or hair pull to spice things up.
Now for the Tops – Here's What to Do in Doggy Style Sex
When you are the partner in the back, you're steering the ship. 
You have a bird's eye view of what's happening, and, hey, we know how much fun you're having! 
Here are some hints on what you can do to make doggy style sex more fun for both of you.
Change Positions within the Positions
When you're in doggy position, mix things up by lifting a leg and planting a foot down. 
With one knee down and one knee up, you'll have better hip control for thrusting. You can lean into your partner or back away, changing how you're entering for different sensations.
Move Your Legs Outside of Your Partner's
Usually, doggy style sex involves the person behind's legs being positioned on the inside. The partner on their hands and knees spread their legs, so their knees are naturally outside.
However, you can change it up and move your knees outside of your partner's for a closer, tighter feel. It's a matter of personal preference, and it is fun to try out! . 
Try a Bit of Consensual D/s Play
Be careful here, because not everyone is into submissive-dominant sex play.
You have to ask for enthusiastic consent.

If it isn't a hell yes, assume it is a no! 
-Amanda Pasciucco
Experiment with some hair tugging, light back-scratching, spanking, and other forms of rough play to make things super hot.
Hands on the Hips or Shoulders
When you're behind your partner, place both hands around their hips and pull them back into you as you thrust for deeper penetration.
If you can (some women topping with strap-ons report that they cannot), reach for the shoulders of the person who is bottoming. That will give you leverage. 
Clitoral Stimulation or Manual Masturbation
If your partner is willing to let you try, reach around and help them out with some genital stimulation. I personally believe it is best to let the bottom do this because it is a lot of coordination. However, if you can and they want you to try, go for it!
Other Fun Ideas for Doggy Style Sex
Now you have the basics and hopefully some ideas to play with for your next round of doggy. 
There's still a lot more you can do with the position to keep exploring each other sexually.
For the partner in the front, try putting one or two pillows under your hips and stomach. You can lay down on them and your partner will still get a great angle from behind. 
They can grab onto the pillows and pull them close during each thrust without yanking you around too hard.
If you're open to it, introduce some light BDSM with some handcuffs and let your partner take full charge of doggy style sex. 
Keep in mind that whenever you start with BDSM, you need to be clear about boundaries, so everyone feels comfortable. Again, if it isn't a hell yes, assume a no! 
Doggy style sex has become incredibly popular, so much so that there are even names for varying positions within the doggy style position. 
When you have some time, explore more about what you can do with doggy style sex to make sexual intercourse hotter with lots of incredible pleasure!
You can get more free content on relationship and sex tips by checking out my Youtube Channel – The Sex Healer. 
If you know someone that would benefit from this information, feel free to share it. 
Life Coaching and Therapy (LCAT) is a relationship coaching and sex therapy practice that transforms our clients lives through our flexible, multi-technique approach and pleasure-skills training provided by systemically-trained and licensed therapists! 
Our team of compassionate, licensed therapists and certified sex therapists help Millennials and Baby Boomers alike who visit us for a variety of relationship, intimacy and sex problems. 
LCAT provides on-site appointments, as well as video chat and text therapy programs. For clients hoping to take their intimate lives to the next level through personalized coaching on YOUR terms, learn more about our Text Therapy Program.
Learn more about how LCAT can help improve your life at What We Do. 
Call or text us at 203-733-9600 or make an appointment.
https://lifecoachingandtherapy.com/wp-content/uploads/2019/12/charles-m3JNF_96cxo-unsplash-e1576588208345.jpg
620
1000
Amanda Pasciucco
https://lifecoachingandtherapy.com/wp-content/uploads/2020/12/logo-purple-horizontal.gif
Amanda Pasciucco
2019-12-13 08:38:37
2019-12-13 09:59:35
Behind the Scenes with Doggy Style Sex