The Grapefruit Technique
Have you heard of The Grapefruit Technique in Bed?
Maybe it has been a while since you've been a little freaky, and you have a feeling that your partner feels things are a bit stale in your sexual techniques lately?
We all fall into sexual doldrums from time to time. Work, family, or just life, in general, gets to us. 
We feel like we can barely make it into bed much less put on a show.
You don't have to go wild in bed every time you have sex. 
Sometimes though, you need to do something new to juice up the sex life a bit… so: the grapefruit technique.
I meet with people all the time that want more out of sex, and they don't know where to start. 
Well, this blog is for the adventurer in you. 
This is a quick guide to something called the grapefruit technique, brought to us by Angel, otherwise known as the "Grapefruit Lady." If your partner's got a penis, this is something fun that is sure to blow their mind.
The Setup
Anytime old friends get together, they talk about sex. How much they're getting, if it's good, what they wish would happen, who's the hottest, what's the craziest thing they've done, and anything else you can think of. Don't believe whatever your partner tells you. If they're hanging around friends, sex is on the table.
One of the time-tested sex topics is a preference between oral sex and intercourse. What feels better, getting head or getting inside?
What if you could find a way to make it feel like you're doing both at the same time? With the grapefruit technique, that's exactly what you'll get.
First, you're going to need a grapefruit. Oh, you thought this was just a name for something else? No, you need an actual grapefruit.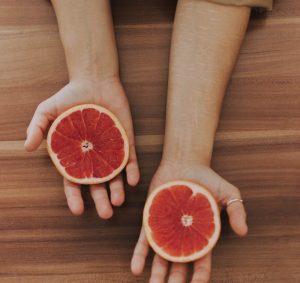 Now, if your partner is allergic to grapefruit for any reason, skip it and buy a large orange or something comparable.
Cut a hole in the middle of the grapefruit that's approximately the size of your partner's penis. Again, you should have a good idea of how big they are. This isn't exactly something you want to bust out on the first night.
Just before you're ready for sex, place the grapefruit under your bed where you can reach it. Your partner will probably think you have some scented candle burning or an oil diffuser on.
The Get Down
You must get your partner blindfolded before you bring the grapefruit out. The element of surprise is important here. Your partner may be resistant to the idea of having a grapefruit rubbed all over their penis, so get the blindfold on them and lay them down.
Trust me, practically no partner will ever reject the idea of being blindfolded by their lover. If you haven't tried it yet, put it on your list immediately.
Once the blindfold is on, lay your partner on the bed and get started doing what you do. Give your best blow job intro to get them hard, then reach under the bed and pull out the grapefruit.
Slide it over their penis and move it up and down with your hand in sync with your mouth. Your partner's not going to believe what they're feeling. How can they be getting an incredible blowjob and feel like they're inside of you at the same time?
After you've been going for a while, feel free to take the blindfold off to give them a view of what's happening. Now the grapefruit is going to be a pleasant surprise instead of too much to handle.
You can bet they're going to be asking for it again soon.
There's good news for the giver as well! Grapefruit is probably going to make giving head more fun and tastier than ever.
Keep It Playful
The grapefruit technique is just one example of ways you can mix it up in bed to keep your sex life interesting and fresh. Life's too short to worry about how you'll look or what they'll think. Break free from prudish thinking and push the limits of your sexual boundaries.
Break out the handcuffs, buy a sexy outfit, start roleplaying, get some toys. Do whatever you think would be fun to try. Inserting flirty games into your relationship lets your partner see more of your sexual side, and they'll feel more comfortable about expressing themselves too.
The grapefruit technique is awesome because it's a sexual tool that's fun and feels great. That's a great combo. If anything, else, you can laugh at trying without taking yourself too seriously. Odds are, though, your partner is going to remember it forever. It may even be the topic of the next meet up between friends.  Your partners' friends are going to go home begging their spouses and lovers to get to the market and buy some grapefruits.
Lean on Your Sex Therapist for Advice
Sex therapy is all about this type of exploration. While we do also focus on overcoming past sexual trauma and relationship issues that get in the way of sexual fulfillment, we spend a lot of time helping you become the sexual being you're meant to be!
Talk to your therapist about fun ways to mix things up with your partner. Break out of your routine with easy steps we can provide you.
All it takes is a sense of adventure combined with our training and expertise to take you to the next level. Soon, you'll be having the best sex of your life. The best part is that as you hand out sexual favors to your partner, you're going to get the payback soon enough.
He'll be thinking long and hard about how to one-up you on the grapefruit technique. Who knows what that'll be? We'd love to find out!
You can get more free content on relationship and sex tips by checking out my Youtube Channel – The Sex Healer. 
If you know someone that would benefit from this information, feel free to share it.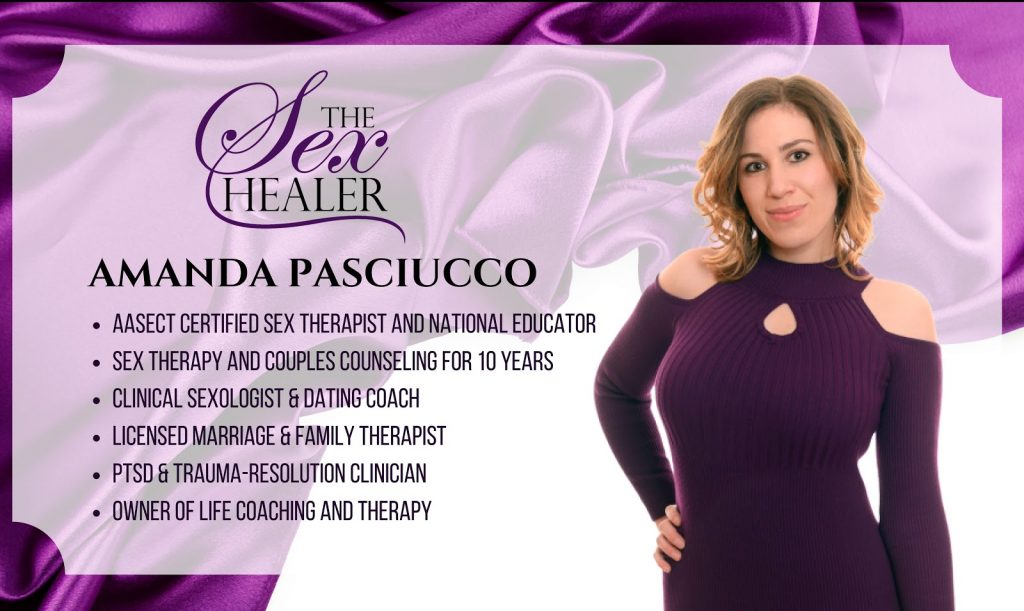 Life Coaching and Therapy (LCAT) is a relationship coaching and sex therapy practice that transforms our clients lives through our flexible, multi-technique approach and pleasure-skills training provided by systemically-trained and licensed therapists! 
Our team of compassionate, licensed therapists and certified sex therapists help Millennials and Baby Boomers alike who visit us for a variety of relationship, intimacy and sex problems. 
LCAT provides on-site appointments, as well as video chat and text therapy programs. For clients hoping to take their intimate lives to the next level through personalized coaching on YOUR terms, learn more about our Text Therapy Program.
Learn more about how LCAT can help improve your life at What We Do. 
Call or text us at 203-733-9600 or make an appointment.
https://lifecoachingandtherapy.com/wp-content/uploads/2020/05/charles-deluvio-kxa2GSsEkqU-unsplash-scaled.jpg
1828
2560
Amanda Pasciucco
https://lifecoachingandtherapy.com/wp-content/uploads/2020/12/logo-purple-horizontal.gif
Amanda Pasciucco
2020-05-29 09:39:15
2020-05-29 09:39:15
The Grapefruit Technique