Stop Technology Addiction by Setting Boundaries with Social Media Engagement
Stop Technology Addiction by Setting Boundaries with Social Media Engagement
Do you have a technology addiction where you spend hours scrolling? 
Maybe technology, television, or social media is more appealing than spending time with others.
If you are missing out on what you love though, learn to set boundaries with social media engagement and your technology addiction of choice. 
Why Are Boundaries Important with Technology Addiction? 
Setting boundaries are necessary when it comes to social media. Constant scrolling, engaging or focus on social media causes increased stress, anxiety, and depression. 
The social comparison piece of social media has grown so intensely that I have clients who truly struggle with seeing the lives of those around them. And the problem with this snapshot on social media is it is often only one aspect of that person's life. 
Other's have found that they are more irritable, anxious, angry, or depressed. Through exploration, it became clear that my clients were spending an extraordinary amount of time on social media. And were becoming more activated as they were scrolling and seeing various things within their feed, stories, or reels. 
If you are spending hours upon hours on social media and struggling with sleep, mood, or completing tasks these all may be signs that you need to re-evaluate your boundaries around your social media usage. 
These technology boundaries can look like: 
Having specific times that you engage with social media

Changing your notification settings on your devices

Limiting the types of social media platforms you use

Have a time limit for each device (including Netflix or your firestick) 

Changing those that you are "following" or "friends" with 

Unfollow is an option for those that 

Identify the reasons and purpose of following certain things 

If it is someone providing advice or health information, figure out how that information is related to their experiences and make informed choices!
If you have any questions about technology addiction for yourself or others, let us know. Take your life to the next level through personalized sessions using Text Therapy.
Life Coaching and Therapy (LCAT) is a relationship coaching and sex therapy practice that transforms our clients lives through our flexible, multi-technique approach and pleasure-skills training provided by systemically-trained and licensed therapists!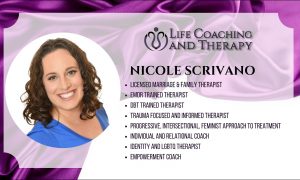 Our team of compassionate, licensed therapists and certified sex therapists help Millennials and Baby Boomers alike who visit us for a variety of relationship, intimacy and sex problems. 
LCAT provides on-site appointments, as well as video chat and text therapy programs. 
Learn more about how LCAT can help improve your life at What We Do.
https://lifecoachingandtherapy.com/wp-content/uploads/2021/04/pexels-roman-odintsov-4555321-scaled.jpg
1707
2560
Nicole Scrivano
https://lifecoachingandtherapy.com/wp-content/uploads/2020/12/logo-purple-horizontal.gif
Nicole Scrivano
2021-04-28 08:18:49
2021-04-28 08:24:32
Stop Technology Addiction by Setting Boundaries with Social Media Engagement