Learn the Difference between a Fetish vs Kink
Learn the Difference between a Fetish vs Kink
One of the most common questions I get asked is what is the difference between a fetish vs kink. This blog will discuss what a fetish is and distinguish it from kinks. 
Explaining Kinks
Kinks are vast. Anything that deviates from the norm of penetrative sex in the basic positions is known as a kink. Like cowgirl, missionary, and doggy style, etc. Kink means anything that varies from what is considered common. Such as spanking or flogging, etc. 
My general thought is as long as the activity is mutual and consensual, have fun. 
There is a wide world of kinks out there and the vast majority is healthy as long as mutual and consensual. I am sure there are some kinks that come from places of woundedness and may be trying to self-medicate. Yet that is also something individuals can work out with their counselor/therapist if they choose they want to. 
Defining a Fetish vs Kink
A fetish is often known as something that one has an enduring fascination about. And it includes specific sensory stimuli that may involve specific body parts or inanimate objects. 
Similarly, a fetish is something you need and must have to orgasm. 
Fetish literally means you cannot achieve orgasmic release without it. 
Sometimes, a fetish comes with guilt, because the fetish consumes the individual and partnered sex life. 
Also, finding a partner who is willing to incorporate your fetish each time you engage in partnered sex may be difficult to find. 
There are tons of individuals with kinks out there. Who are willing to date and partner with someone that has a fetish though, so all hope isn't lost! 
Evolution of Kinks
As individuals grow, sometimes their kinks change too. Whereas, for those with a fetish, that person cannot orgasm without what they deem their fetish. 
So, for example, your partner may have a kink of chastity and you being the keyholder of that chastity, and then after a year, that partner changes their mind and has something new to explore.
Kinks and desires can evolve! This doesn't mean that the original kink of chastity is any less important though! Actually, it shows that your partner has different internal parts of them that want to try different kinks. 
As a person who works in kink conscious practices, no kink or fetish is particularly harmful – as long as all adults are consenting and it isn't negatively impacting the system around you. 
If you feel insecure about this part of your life, ensure that you find a clinician that understands that kink interests and behaviors are not necessarily a result of trauma and that if you are coming to therapy to talk about things other than your kink or fetish, that your therapist attunes to that. 
However, if you find yourself with a therapist that doesn't get it, consider seeing someone that specializes in this type of work.
Life Coaching and Therapy
(LCAT) is a relationship coaching and sex therapy practice that transforms our clients lives through our flexible, multi-technique approach and pleasure-skills training provided by systemically-trained and licensed therapists!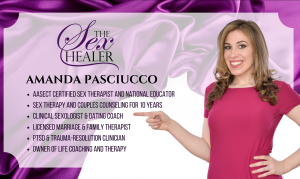 Our team of compassionate, licensed therapists and certified sex therapists help Millennials and Baby Boomers alike who visit us for a variety of relationship, intimacy and sex problems. 
LCAT provides on-site appointments, as well as video chat and text therapy programs. 
Learn more about how LCAT can help improve your life at What We Do. 
https://lifecoachingandtherapy.com/wp-content/uploads/2021/07/pexels-kamaji-ogino-5066281-scaled.jpg
1707
2560
Amanda Pasciucco
https://lifecoachingandtherapy.com/wp-content/uploads/2020/12/logo-purple-horizontal.gif
Amanda Pasciucco
2021-07-19 07:44:48
2021-07-19 07:44:48
Learn the Difference between a Fetish vs Kink