COVID Anxiety with Children
COVID anxiety is a real thing.
The last three weeks have been a crazy whirlwind. All of our lives have been turned upside down because of the Coronavirus. Schools have been canceled, millions of people have lost their jobs, and we can't even enjoy being outside like we did just last month.
Even if you are one of the lucky ones able to work from home, you're probably still feeling a great deal of disruption. By now, you've socially distanced yourself into isolation. Regular life is now Zoom conference calls and sweatpants at home all day. Maybe you get out for a run or a walk, and that's about it.
The impact of what's going on has so many layers it's hard to process. Managing working from home with kids out of school all while watching the news of new cases and rising casualty numbers is nerve-wracking. The financial markets are in turmoil and there's a general feeling of uncertainty.
How can you manage stress and COVID anxiety when the future is so unsure, and everything looks so bleak?
Shrink Your Circle
This is not the time to be worried about whether your kid is getting points for doing the extra credit assignment. Don't fret over missing yoga or not getting in your gym time. During a crisis that threatens all of your normal, do what you can to shrink your circle into things you can control. Leave everything else outside.
Most people do well with a routine. You may be struggling with anxiety because yours has been torn to pieces. Start again new by making a fresh routine based on your reality. Avoid starting every day with a question mark or vague outlines of what's supposed to happen. Break up your day into time slots. Dedicate specific time to work, cleaning, and homework.
Pay attention to your mood and your body. It will tell you what you need to feel calm and secure. You may need a clean house to feel grounded. Maybe it's a shower. Whatever it is, your body will communicate what it needs as well.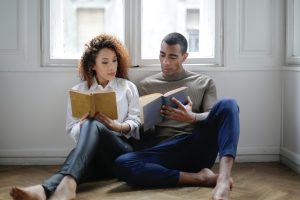 If you've got kids, they'll thrive on routine. Think about it. All day, they're at school where every fifteen minutes is planned. They walk in lines and complete assignments. Suddenly, they're dealing with online portals and weekly communications from their teachers. They haven't seen their friends in weeks.
A routine can shield your kids from the COVID anxiety so many of them are feeling.
Reach Out Instead of Looking In
Times like this it's easy for anxiety to snowball and spiral out of control. How can you break your attention away from all of the negativity?
Serving others is a way out if you're lost in worry and stress. And it doesn't mean you have to start a massive donation drive for your local hospital. 
You can contribute to ongoing efforts to help people affected deeply by Coronavirus by helping those in your inner circle who may be struggling.
After weeks of social distancing, think about how grateful you are for the friends and family who randomly check in on you from time to time. 
Are you doing the same for the people you care about? 🤔
Try talking to your neighbors. Make sure they're ok. Have frank conversations with your spouse or partner(s) to let them know you are there for them and care about how they're doing.
You'll notice that as you focus your attention outwards, you'll be less stressed about how quarantine and the virus are affecting you. 
It can be a nice paradigm or perspective adjustment to just try to contribute more in ways that bring YOU joy.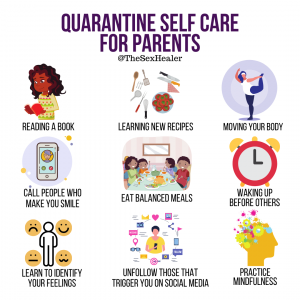 Get Physical!
Exercise, hug the people you live with, and have as much sex as you can! 
We take for granted what a handshake, a hug from a friend over coffee, and a kiss from a lover can do for us. 
Humans are so physical by nature that a month of standing six feet apart has huge implications for our mental health.
Even in places that are in total lockdown, you can still get out for a jog or a brisk walk. Make sure you do something physical every day.
Intimacy with your partner should also be a priority. Prioritize sex. 
Don't let the doldrums of working from home and the kids around all the time stop you from expressing love for your partner physically. 
Get a sound machine and a lock on your bedroom door!
Sex can be the renewal you need and releases critical endorphins that can sustain you in times of stress.
Hug your children, or tell them how much you love them. Offer whatever reassurances you can.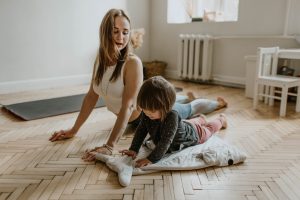 What's Life Going to Look Like on the Other End?
Eventually, normal life will start to return. The stores will reopen, and you can go see a movie on the weekend. Normal probably isn't going to look the same anymore. 
We're all probably going to have a mask at the ready… and we're going to be warier of touching things when we don't know where they came from.
How is your life going to be different when that happens? Think about what made you the most stressed when Coronavirus hit. 
Was it not enough emergency cash? Did you feel insecure in your job? Did you have the medical supplies or the food storage to get you through?
Downtime during Coronavirus is the perfect time to practice some goal setting for the future. You can avoid COVID anxiety and stress by creating conditions in which past pain has less chance of happening again.
Celebrate the Victories
Someone I know used time at home during the Coronavirus to teach his five-year-old daughter how to ride a two-wheel bike. There's a lot of bad that has happened during the pandemic. 
Still, years down the road when he's reminded of what we're all going through now, he's going to remember running around in the parking lot, bent over, killing his back as he ran after his daughter as she pedaled. 
It's not going to be all bad… 
Create memorable moments with people who mean something in your life. 
Express gratitude for family and friends. 
Check-in, follow up and persist. 
We'll all get through this.    
You can get more free content on relationship and sex tips by checking out my Youtube Channel – The Sex Healer. 
If you know someone that would benefit from this information, feel free to share it.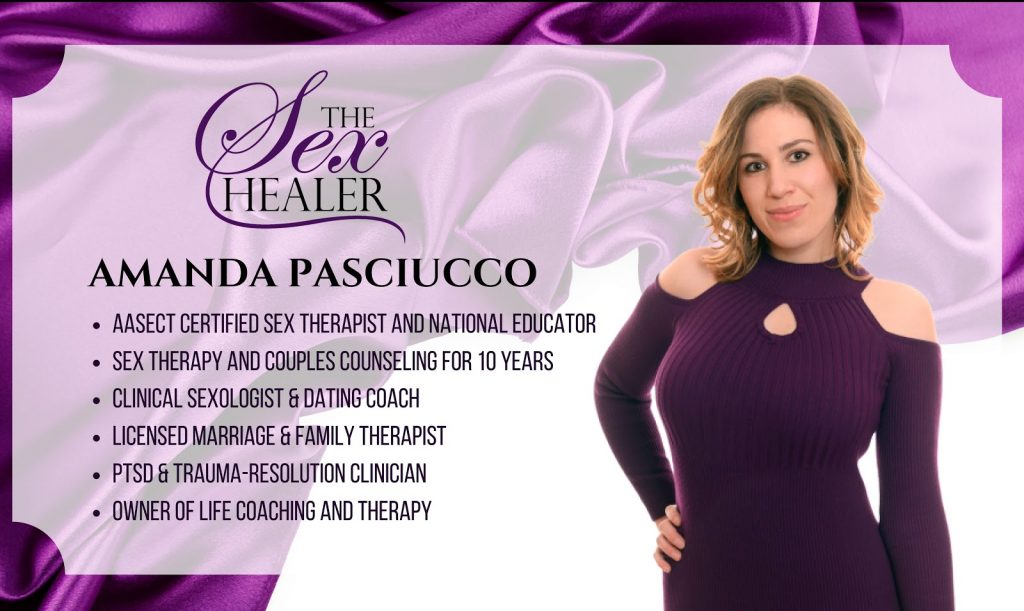 Life Coaching and Therapy (LCAT) is a relationship coaching and sex therapy practice that transforms our clients lives through our flexible, multi-technique approach and pleasure-skills training provided by systemically-trained and licensed therapists! 
Our team of compassionate, licensed therapists and certified sex therapists help Millennials and Baby Boomers alike who visit us for a variety of relationship, intimacy and sex problems. 
LCAT provides on-site appointments, as well as video chat and text therapy programs. For clients hoping to take their intimate lives to the next level through personalized coaching on YOUR terms, learn more about our Text Therapy Program.
Learn more about how LCAT can help improve your life at What We Do. 
Call or text us at 203-733-9600 or make an appointment.
https://lifecoachingandtherapy.com/wp-content/uploads/2020/04/COVID-Anxiety.jpg
437
655
Amanda Pasciucco
https://lifecoachingandtherapy.com/wp-content/uploads/2020/12/logo-purple-horizontal.gif
Amanda Pasciucco
2020-04-13 08:42:42
2020-04-13 15:22:25
COVID Anxiety with Children