Are You Using Vibrators Safely?
Vibrators are in some ways the ideal sex toy. They come in all shapes, sizes, colors and materials. They come at different speeds, different intensities and are available for any budget.
However, like any toy, vibrators must be used safely and smartly to ensure a pleasurable experience and health.
Whether you are dealing with a penis, vagina or anus, vibrators can enhance your sexual pleasure. Solo or as a part of sex with others. There are some things to consider to ensure you are not hurting yourself or exposing yourself to harmful chemicals.
Materials
The materials used for vibrators can vary from cheap plastics to silky silicones to even glass, metal or crystal. Most toys are constructed with pleasure and sensation in mind and sometimes neglect legitimate safety concerns in order to create something that feels good- or can be made cheaply.
Some of the softeners that make plastic vibrators smooth and flexible are actually harmful chemicals that may harm your body. BPA, phthalates, PVC, and Bisphenol A are just a few of the materials used. These are recognized both internationally and in the USA as having harmful effects on hormone production. 
This has been known to lead to myriad issues, so knowing what your vibrators are made of is no small matter. 
The porosity of the vibrators (if it has pores like a sponge, that is not a good material for a sex toy) is a crucial factor in determining if this toy is made of safe materials. 
When playing with vibrators, it is important to keep them clean. And a high porosity material is more likely to absorb and transmit infections, viruses, bacteria and yeasts that are stuck in the material despite cleaning. 
Porous materials to avoid include PVC, rubber, jelly and any rigid, cheap plastics. 
Medical grade silicone, glass, and surgical steel are options that are less porous and less likely to absorb bacteria that you don't want to expose to your mucous membranes.
If you use vibrators made from those more porous materials, consider adding a condom to your vibrator to prevent potential exposure to chemicals and bacteria.
Shapes
There are vibrators like the magic wand that do not go into the body. They are used for external touching. 
We have an entire blog coming out about learning the buzz on how to use that type of vibrator so stay tuned. 
If you are using insertion vibrators to pleasure yourself – be sure to get the right type for the right oraffice. 
For those who want insertion anally, you must use vibrators with a flared base.
You would be surprised how much suction there is when you penetrate the anus, and non-flared toys can easily get sucked up before you notice.
Prevent a trip to the ER and use vibrators with either two prongs or a flared base to avoid "losing" the toy inside yourself. 
That said, if you have used a toy and it is stuck, do not try to remove it yourself. Go to the ER to avoid fissures and internal damage, and don't worry, those nurses have truly seen everything before.
If you are using vibrators anally or vaginally, I advise training yourself to the size you ultimately desire. 
Aim a little smaller than you think you can handle, and use lots and lots of lube. 
Eventually you can work your way up to more girthy toys, just know your limits so you can stretch safely instead of tearing or ripping!
As with any sex toy, make sure that you have vibrators with smooth sides. No sharp or pointy edges and that all the parts are secure and won't fall off in an unfortunate location.
Hygiene & Cleaning
The most important safety tip of all is to keep your vibrators clean! Ideally clean them before and after use, though you should definitely clean them every time before use.
It also helps if you are clean too! While you don't need to be fresh from the shower, using a wet wipe can clear away any debris that may get into the wrong places when things get heated. This is a personal call, if you feel clean enough for your own comfort that is all that matters. Just ensure you never use your vibrators on your anus and genitals during the same session without cleaning in between.
Just a reminder that porous materials (jelly, PVC, cyberskin) will not ever be totally clean. However if you insist on using them try to clean them thoroughly with mild fragrance-free soap and hot water. You can also use an antibacterial spray made especially for sex toys as an added precaution.
Here is how to properly wash your vibrators:
Remove any batteries.

If your vibrator is rechargeable, has batteries or isn't marked as "waterproof," do not submerge your toy into the water completely. Trust me – they are not all waterproof and will break.

Wash the vibrators gently with hot water and a mild, fragrance free soap. Dish soap is a suitable alternative if you avoid brands that contain perfumes. Really try to get into every curve, nook and cranny to remove any potential bacteria.

Rinse off the soap with hot water and dry off your toy with a clean towel or put it out on a windowsill in the sun to dry.

Put the batteries back in, and store your vibrators in a cool, dry place.
Please do not let your vibrators touch one another, as some toys will eat away at one another. 
Another hygiene tip: don't share sex toys with new partners without using condoms on them. And clean before sharing even with usual partners. 
STI's and other infections can be passed along with toys the same as they are passed along with skin to skin contact.
Safety Reminders for Fun, Pleasurable Vibrator Use
Here is a roundup of advice for using your vibrators in a way that is fun, pleasurable and safe!
 

Purchase vibrators made from body safe, non porous materials such as silicone to ensure that your toys can be cleaned properly

 

Avoid cheap plastics, rubber and jelly vibrators to ensure you're not being exposed to harmful chemicals

 

Use vibrators with flared bases if you plan on using them for anal insertion

 

Don't use a vibrator that is too big without working up to the size with time, stretching and lots of lube.

 

Make sure your vibrator is free of sharp edges, pointy ends and cracks to avoid injuries and infections.

 

Clean your vibrators before and after use with hot, soapy water.
If you follow these tips, you'll ensure your vibrators are always ready for fun when you are!
If you have any questions, or for clients hoping to take their intimate lives to the next level through personalized sessions on YOUR terms, learn more about our Text Therapy Program.
Life Coaching and Therapy (LCAT) is a relationship coaching and sex therapy practice that transforms our clients lives through our flexible, multi-technique approach and pleasure-skills training provided by systemically-trained and licensed therapists!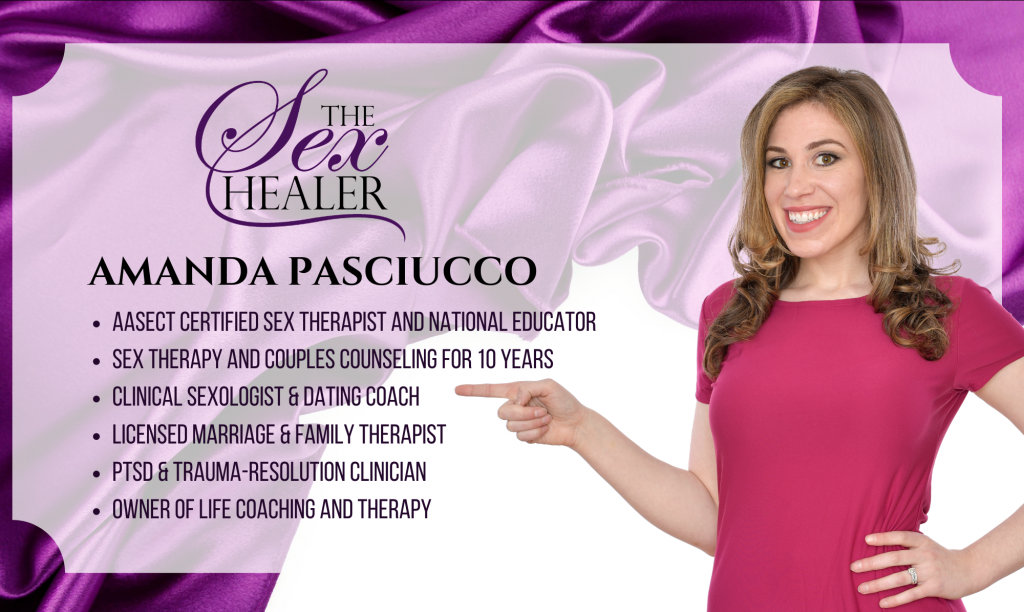 Our team of compassionate, licensed therapists and certified sex therapists help Millennials and Baby Boomers alike who visit us for a variety of relationship, intimacy and sex problems. 
LCAT provides on-site appointments, as well as video chat and text therapy programs. 
Learn more about how LCAT can help improve your life at What We Do. 
0
0
Amanda Pasciucco
https://lifecoachingandtherapy.com/wp-content/uploads/2020/12/logo-purple-horizontal.gif
Amanda Pasciucco
2021-01-22 09:00:25
2021-01-22 09:00:25
Are You Using Vibrators Safely?