Kink Ideas Every Couple Needs to Try Out
 Kink Ideas Every Couple Needs to Try Out
You don't have to be a '50 Shades of Grey' fan to know one or two kink ideas that will spice up your sex life. After all, turning your wildest fantasies into reality with your sex partner is something we all need from time to time to avoid getting stuck in the routine. So, how many of these ideas have already been crossing your mind, yet you somehow missed to fulfill them?
Well, if you still need a bit of motivation and to hear about a few more ideas that other kinksters recommend. You will easily find something you and your partner will want to try out. So, from the tame to the wild, these are all the ideas that might shake things up for you!
The Mirror Game
Mirror, mirror, on the wall, who is the kinkiest of them all? If you and your sex partner would love to see how your kinky sides look like, why not start having sex in front of the mirror? You can explore each other bodies better and enjoy the faces your partner is doing while you're having sex. 
This will give you both a better view and also add an additional dimension to your sex life. From enjoying how their touch feels to fall in love with their facial expressions, there is nothing you will not love when it comes to the mirror game. 
Ice Me, Baby
When we're stuck with our daily responsibilities, we often forget that just a little prop that everyone has in their homes can light that flame and lead to the wildest sex of your life. For instance, you might get ice cubes and start rolling them down your partner's neck while kissing them on the lips and asking them to close their eyes.
Then, you can start going lower with the ice cube all the way to their belly button. During all of this icy game, you can kiss, lick, bite, and tease them to heighten their sense. For those who want to take it a step further, you can blindfold your partner, so they can get a more sensual experience. 
Text Dirty To Me
Working hard is not a good enough excuse to stop heating things up between the two of you, right? Although sometimes it's really challenging to find time for sex games, you will always have a minute to text. So, why not send a dirty text to your partner and share with them what's on your (dirty) mind? Forget about the limitations, share with them the juiciest details on how you would like to do it, where, for how long, etc. 
Of course, it can also be voice messages or phone calls. You can call your partner and talk dirty to them, and use it as an invitation to spend the lunch break together in a car having sex. Or, you can send a sexy massage to your partner with instructions for the game you both will be playing once you get home. 
Role Play
There are no limitations when it comes to all the scenarios you can play out with your partner in bed. You can do whatever you want, and you can also be whoever you want. So, if you or your sex partner have a thing for doctors, teachers, handymen. Or any other role, why not turn it into reality?
You can be the sexy teacher and your partner can be a naughty student who hasn't finished their homework and needs to be punished. Or, your partner can be a hot doctor and you are a worried patient in a lot of pain. Whichever role you chose, make sure you get into it completely. You can choose an accent, put on a wig, buy an appropriate outfit, and take your game to a place where your characters will come to life even more.
Watch Me Get It On
You might not be immediately encouraged to try to masturbate in front of your partner. Yet this is great foreplay for both of you. Allow your partner to watch you pleasure yourself, and don't restrain yourself from anything you'd like to do. Whatever turns you on will turn on your partner even more!
For those who feel great about this kink idea, you can even put on a show where you start dancing to your partner's favorite music and start touching yourself until you end up on a bed or a couch next to them masturbating. 
Ready, Set, Record!
Many couples feel incredibly sexy and motivated to throw on a great sex performance when they know they are recording themselves. Ask your partner how they feel about it, and if they like the idea, start recording your sex. You don't need any special equipment like a professional camera and lighting. After all, you're not interested in a well-produced movie. 
Instead, you and your partner are looking for some fun, and having a tape of you two in between the sheet might light that kinky flame between you. Maybe you will not even watch your hot piece of art. Yet you might get additional pleasure just by knowing you're recording.
Outdoor Sex
Feeling a little bit of fear of being exposed while having sex is like an aphrodisiac for many people. Having sex in public places has this intensive combination of fear, uncertainty, and it's spontaneous – most of the time. It's up to you and your partner to choose a place where you want to do it. For instance, it can be a bathroom of a cafe or a restaurant, a parking lot during late hours, a bench in a park, behind a tree, etc. 
As long as it's outdoor, it's considered to be public sex. For those who are a little bit shy yet still want to try out this kink idea, you should start with places that have a very minimal possibility of someone catching you in your wildest moments. 
When it comes to kink ideas, it's completely up to your partner and yourself to determine what you want to try out and what is not for you. If an idea doesn't seem comfortable to you for whatever reason, just don't do it. You should only be up for the ideas that will improve your sex life, not make it worse!
Life Coaching and Therapy
(LCAT) is a relationship coaching and sex therapy practice that transforms our clients lives through our flexible, multi-technique approach and pleasure-skills training provided by systemically-trained and licensed therapists!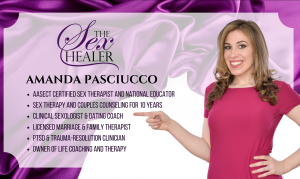 Our team of compassionate, licensed therapists and certified sex therapists help Millennials and Baby Boomers alike who visit us for a variety of relationship, intimacy and sex problems. 
LCAT provides on-site appointments, as well as video chat and text therapy programs. 
Learn more about how LCAT can help improve your life at What We Do. 
https://lifecoachingandtherapy.com/wp-content/uploads/2021/10/pexels-cottonbro-4980314-scaled.jpg
1707
2560
Amanda Pasciucco
https://lifecoachingandtherapy.com/wp-content/uploads/2020/12/logo-purple-horizontal.gif
Amanda Pasciucco
2021-10-11 11:14:57
2021-10-11 11:14:57
Kink Ideas Every Couple Needs to Try Out