How Do Therapists Become Therapists?
I am often asked how to become a therapist and what path I took to become one. There are often a lot of assumptions surrounding the process and so I wanted to offer some insight for people who either want to become one, have a therapist, or just are generally curious. 
There are several different paths to accomplish this. First and foremost, you have to complete a bachelor's degree and at least a masters and in some cases a doctorate. By and large, most therapists have a Master's degree in some specific type of therapy or counseling. 
Therapists who Prescribe
Although not as common, therapists that prescribe are usually Psychiatrists (MD) or Advanced Practice Registered Nurse (APRN) or Psychiatric Nurse. Some of these practitioners may engage in some counseling, but often it seems that they work in conjunction with a therapist to help support a client/patient in the medication therapy. In order to be in either of these roles requires various certifications and training and/or medical school (in the case of the Psychiatrist). Obviously time to accomplish these certifications varies based on trajectory but can be anywhere from 3 to 8 years. 
Therapists who Conduct Assessments
Most therapists conduct some level of assessments in their practice. These can range from intake assessments and ongoing assessments to identify appropriate diagnosis and course of treatment for their clients. 
Psychologists (Masters or Doctor of Philosophy) and Doctors of Psychology (PsyD or PhD) often specialize in various areas of standardized assessments or testing. This can include things like neuropsychological exams, learning disabilities, mental status and cognitive testing, etc. Commonly we see these types of therapists or psychologists connected with universities, school systems, or medical facilities (hospitals, etc). 
Psychology is a broad field, but in terms of therapy we typically see a Masters, Psychology Doctorate, or Doctorate of Philosophy connected to Clinical Psychology. Clinical psychology focuses on treatment and assessment of emotional, mental, and behavioral disorders. In order to engage in this type of practice, you must complete a masters degree of usually 3 years or a doctoral degree of 4+ years. 
Therapists and Counselors
When we think of therapists we more commonly think of therapists who received Masters or Doctorate Degrees in Social Work (LCSW),  Marriage and Family Therapist (LMFT), Clinical Psychologists (PsyD or PhD) or Professional Counselors (LPC). Each of these specialities focus on providing clinical services, therapy, and counseling to their clients. Many of these therapists have different specializations and certifications to support their practice whether that is in substance abuse treatment, trauma treatment, sex therapy, couples therapy, etc. Although, each may have specialties, generally, each degree allows for therapists and counselors to be able to practice individual, group, or relational therapy in a clinical setting. In addition to case management and assessment. 
Below I have described the most common types of therapists noted above. 
Licensed Clinical Social Worker (LCSW) 
A LCSW is someone who has completed their Masters or Doctorate degree in Social work. A licensed clinical social worker focuses on the clinical aspects of social work rather than other concentration areas of community organization, case management, or other social work tracks. Simply completing a social work degree does not necessarily mean that they are therapists or clinicians
Licensed Marriage and Family Therapist (LMFT)
I am totally biased on this one because this is what my degree and specialization is in. A person who is a LMFT has a Master's Degree in Marriage and Family Therapy or in a related area with a concentration in MFT. This training focuses specifically on relational therapy and systemic thinking. This degree is predominately clinical and is often connected to family therapy or couples therapy.
Licensed Professional Counselors (LPC)
A person who is an LPC may have a Master's Degree in various fields (school counseling, general counseling, psychology, etc). LPC's are trained in a variety of clinical practices depending on their base degree, but are predominantly clinical professionals. Often specializing in individual, group, and substance abuse treatments. 
These tracks vary in requirements, however on average Master's Levels Programs take about three years to complete and an additional two years to become licensed. In addition to our degrees, licenses, and certifications we are also required to take a certain number of Continued Education (CE) courses each year to be sure we are remaining up to date with our clinical practice. This is not the case for all practitioners. 
Typical Requirements to be a Licensed Practitioner
Although this varies state to state and is also dependent on the type of clinical degree you have. Generally the following criteria has to be met: 
Completion of Masters or higher degree

Practicum (supervised clinical experience)

Internship (a clinical experience unpaid in the field)

Specific amount of clinical hours (sometimes specified by individual, group, relational, and/or case management)

Specific amount of supervision by licensed professional

 Usually somewhere around 50-60+ credits hours

Coursework in clinical, developmental, and theoretical models of treatment

Thesis or Capstone presentation on your therapeutic methods and/or research

Post graduate Clinical Hours (usually about a year or two of clinical or case management experience)

Post graduate supervision hours (supervised by a licensed clinical practitioner within your field)

Successful Completion of Exam (Licensure or Board Certification) with passing score
State Licensure
Each state has different requirements for licensure and are also dependent on the type of clinician/therapist you are. Some licenses are more transferable than others across states. It is important before getting licensed in specific state that you research what your state requires in way of credits from masters, hours, and Continuing Education Credits, etc (see above). 
In Connecticut, we pay $320 per year to maintain a license and need a specific amount of Continuing Education Credits (CEs) per year. There are also certain types of CE's that we are required to have. For instance, in MFT we need to get a certain amount of CE's surrounding veterans and diversity. 
Insurances
As with other medical providers, in order to accept insurances therapists have to be paneled with each specific insurance company. Each insurance company has its own contracted rate for each provider based on credentials and area of service. Credentialing with insurance companies can be time consuming and arduous for therapists. 
Therapists can choose to contract with different insurance companies based on their access to patients, reimbursement rates, etc. If therapists do not want to contract with a specific company, they do not have to. They are still able to work with clients with that insurance company but charge a private pay rate and the client can bill their insurance for full or partial reimbursement or bill towards their deductible if they have one.
Associations
In addition to licensure and insurances, therapists also usually associate with various associations which require their own benefits and memberships. These can be general based on educational/certifcation background or specializations such as sexuality, trauma, addiction, couples, etc. 
Some of the most common ones are:
There are also associations for people based on their specialities, some of these include: 
These are some examples above, however there are many that have more specifications and more general. Each association allows various benefits, resources, and membership requirements. As therapists, we maintain various certifications and associations to support having the most up to date information within the mental health field. 
Obviously this is a broad overview on how to become a practicing therapist and clinician. Basically, we do a lot of work to become therapists and maintain our abilities to practice clinically. 
If you need help finding a therapist for you, feel free to reach out and we are happy to help you here at LCAT! We are a staff of LPC, LCSW, and LMFT's (now you know what these mean!). 
Learn more about CE for therapists – learn unique couples counseling and sex therapy methodologies to help you with your clients.
If you have any questions, or for clients hoping to take their intimate lives to the next level through personalized sessions on YOUR terms, learn more about our Text Therapy Program.
Life Coaching and Therapy (LCAT) is a relationship coaching and sex therapy practice that transforms our clients lives through our flexible, multi-technique approach and pleasure-skills training provided by systemically-trained and licensed therapists!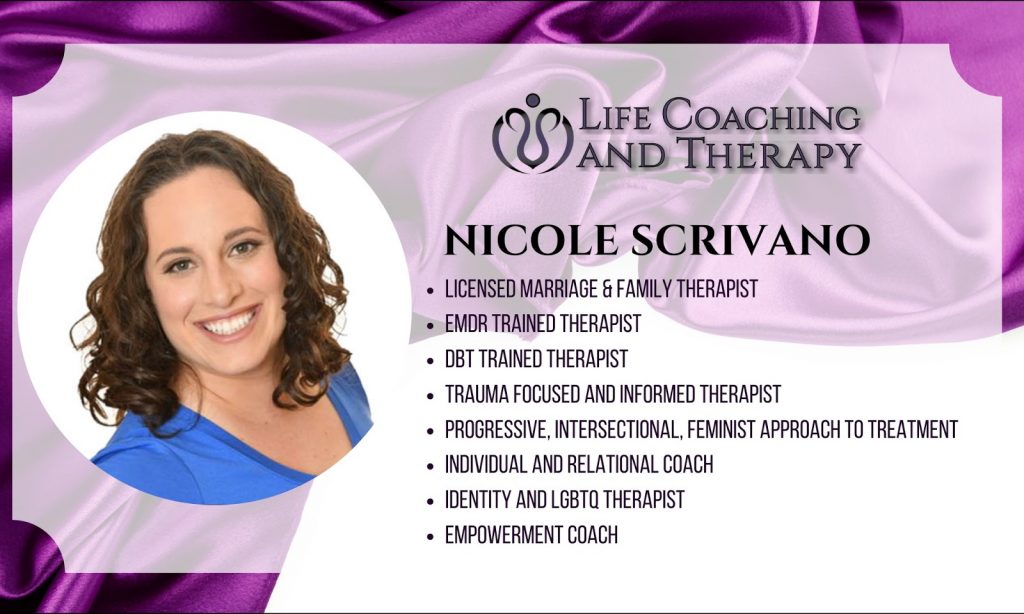 Our team of compassionate, licensed therapists and certified sex therapists help Millennials and Baby Boomers alike who visit us for a variety of relationship, intimacy and sex problems. 
LCAT provides on-site appointments, as well as video chat and text therapy programs. 
Learn more about how LCAT can help improve your life at What We Do. 
https://lifecoachingandtherapy.com/wp-content/uploads/2021/03/pexels-alex-green-5699456-scaled.jpg
1707
2560
Nicole Scrivano
https://lifecoachingandtherapy.com/wp-content/uploads/2020/12/logo-purple-horizontal.gif
Nicole Scrivano
2021-03-03 08:46:07
2021-03-03 08:47:16
How Do Therapists Become Therapists?