Your Ultimate Guide To Better Lesbian Orgasm
Your Ultimate Guide To Better Lesbian Orgasm
If you are a woman who loves dating other women, learning about a lesbian orgasm is vital for both your sex life and your relationship. From learning which positions provide great pleasure to understanding how a body with a vagina works, this guide will provide you with it all.
You never had sex with a woman yet feel curious to find out what you can expect? We will reveal all the tips and tricks to make your first time as magical as possible.
Lesbian Sex
The difference between lesbian sex and sex between the opposite sexes is that to achieve orgasm, clitoral stimulation is crucial. So, it is vital to know everything about the ways to use the clitoris and give an orgasm to your partner. As much as it is true that stimulation is a big part of lesbian sex, you can still enjoy penetrative sex as much as you would enjoy clitoral stimulation. The choice is entirely up to you and your sexual partner!
When compared to hetero sex, clitoris and other erogenous zones are a bigger priority than just the act of penetration. As stimulation provides a different sensation than penetration, many bisexual people say they experience more pleasure while having sex with women than men. 
If you are looking for inspiration, take a look at some of the most popular sex positions among lesbian couples that will bring incredible satisfaction to you and your partner in bed and everywhere else you like to get freaky!
It's 69 O'clock!
This position is among favorites among lesbians couples as it allows each partner to give and receive clitoral stimulation. One person will need to lie on top of the other, facing each other in the opposite direction. In other words, your feet should be where their head is, and your partner should do the same. With 69, both of you will be able to have your mouths right next to each other's vagina.
The great thing about this 69 is that you can easily switch positions, so both of you can be on the top during sex. For those who will not feel comfortable with this top-bottom position, you can also practice 69 on the side. Whichever of these two options you choose, you will not be disappointed! 
Let Me Sit On Your Face!
If you like dominative and submissive games, face sitting is an excellent position to have fun with it. The person on top (dominant) will sit on the face of the other person (submissive) who is in the laying position. For those who enjoy role-playing, you can even include that as well when in this position.
The person sitting on someone's face is in complete control, getting all the pleasure they can get from this position where mouth and tongue stimulate the clitoris. 
The Good Old Doggy! 
Most people will think of hetero couples when talking about the doggy-style position, yet many lesbian couples will recommend it to any rookie joining the club. Simply by adding a strap-on, partners can make the most of the doggy style and achieve great pleasure for both of them. The reason why doggy-style sex is so pleasant for partners with vaginas is the receiving partner can stimulate the nipple and clitoris with the fingers or a vibrator while the other partner is behind. 
This position is a good choice for anyone who loves deep penetration. Due to the angle of penetration, the doggy style brings great satisfaction to the person on all fours. If you are looking to take it one step further, why not blindfold and tie the hands of the receiving partner and heighten their senses that way?
Stretch Me, Baby!
The stretch is very similar to doggy style, so the chances are if you are a fan of one, you will probably enjoy the other one as well. With this position, the partner will slide underneath the other partner while lying on their back. Either you or your partner will stay on all fours and stretch the arms out in front. At the same time, you will need to raise the bottom as high as possible for a better feel. In other words, one partner will be underneath the other who will support their body with hands and knees. 
This position provides both partners with an incredible sensation and is more intense for the partner doing the stretching. So, if you were looking for something new to try in the bedroom, stretching is the position the both of you will surely enjoy!
Bossing Around!
If you like being in control during sex, this is what you need to make the most of your sexual experiences. You will sit in a chair or on the edge of your bed and spread your legs wide. Under your feet, you will place a pillow and tell your partner to crawl between your legs. Then, you will wrap your legs around their neck to find the right angle and use your hips to navigate your partner.  
This position can be just the start of you bossing your partner. You can tell them to be quiet and follow your instructions. Guide them during the entire time on what you need to achieve an orgasm.
Vibrate My Nipples!
Of course, there are plenty of couples who are not into the penetration game. If you were thinking of vibrators as toys for penetrating, it might surprise you once you have experienced their stimulation potential! For many people, nipples are an erogenous zone, and just by someone touching, licking, kissing, and biting their nipples, they achieve great pleasure. So, why not use the power of the good old vibrator and graze it along the nipples to experience something completely different?
You can use it for foreplay and during sex, depending on how you want things to go. One thing is for sure, you both will enjoy it and come back to the nipple game a few times more. Once you get tired of it, you can buy a differently shaped vibrator or change the speed on the one you have, and you will be more than amazed!
Life Coaching and Therapy
(LCAT) is a relationship coaching and sex therapy practice that transforms our clients lives through our flexible, multi-technique approach and pleasure-skills training provided by systemically-trained and licensed therapists!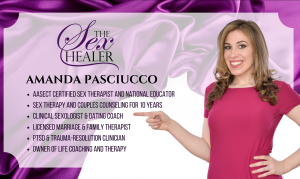 Our team of compassionate, licensed therapists and certified sex therapists help Millennials and Baby Boomers alike who visit us for a variety of relationship, intimacy and sex problems. 
LCAT provides on-site appointments, as well as video chat and text therapy programs. 
Learn more about how LCAT can help improve your life at What We Do. 
https://lifecoachingandtherapy.com/wp-content/uploads/2021/12/pexels-victoria-borodinova-1634481-scaled.jpg
1714
2560
Amanda Pasciucco
https://lifecoachingandtherapy.com/wp-content/uploads/2020/12/logo-purple-horizontal.gif
Amanda Pasciucco
2022-01-03 06:48:04
2022-01-03 06:48:04
Your Ultimate Guide To Better Lesbian Orgasm